You may not have heard of Thermann hot water systems, but that's not because the company does not have a good reputation. The reason is because they're new. In fact, if you haven't heard of them, this Thermann hot water system review is just for you – because you are one of the last to hear about some of the absolute best hot water systems on the market today.
Yes, Thermann hot water systems are quite new to the market, but did you know the brand is the fastest growing in the hot water industry in Australia and New Zealand? There are some very good reasons for that.
The company took a very clever and methodical approach to the local market. First, they carefully identified which hot water technologies were dominating in the various categories – and then set the ambitious goal of producing various types of hot water systems and models with the highest quality of anything else on the market.
In Gold Coast Plumbing Company's Thermann hot water system review, we're talking about:
1. Continuous flow hot water systems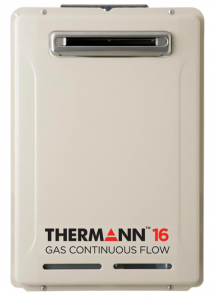 Small and sleek, these tidy little units are very energy efficient because they only heat up the water when you turn on the tap. But it means you'll never run out of hot water, even if you have a busy family.
Thermann's perks: These systems come with impressive 12-year warranties, with various capacities ranging from 16 to 26 litres that will suit every family's needs.
Link: Thermann Continuous Hot Water Systems
2. Storage Hot Water Systems
If you recognise a modern, small, sleek and unobtrusive continuous flow hot water system, then you'll feel even more familiar when you see a traditional storage hot water system. These natural gas, LPG or Thermann electric hot water systems are the ones with the big tank, with water heated to 50 degrees and ready for when you need it.
Thermann's perks: Warranties range from 7 to 10 years, with a variety of capacities from small electric storage units of just 25 litres to a hefty 170 litres.
Link: Thermann Storage Hot Water Systems
3. Heat Pump Hot Water Systems
Think of a heat pump like a fridge in reverse, as it extracts the heat from the environment and then stores the water in a tank. Because the pump technology is using the ambient air temperature to do the heating, the energy efficiency rating is extremely high.
Thermann's perks: The hybrid Thermann electric hot water systems produce 4kHw of heat for every kWh of energy, making them almost 74% more energy-efficient than a traditional system.
Link: Thermann Heat Pump Hot Water Systems
4. Solar Hot Water Systems
While a heat pump uses ambient air temperature, a solar hot water system uses the sun – making it the most energy-efficient way to heat up water for your home. But while people are still making the switch to solar, the 50-year-old technology is already quite mature, making it very reliable.
Thermann's perks: For amazing peace of mind, Thermann's solar systems boast amazing 15-year warranties, and 'active tracking' technology means heat is collected no matter where in the sky the sun happens to be.
Link: Thermann Solar Hot water Systems
5. Commercial Hot Water Systems
These big boys are mainly for businesses or other commercial settings that need a lot of reliable hot water on tap.
Thermann's perks: Every business is catered for with Thermann's commercial hot water systems. Take the 50 litres continuous condensing hot water unit, for example, which is the only one of its type in Australia.
Link: Commercial Hot Water Systems
Thermann's big boast is that it makes hot water simple – and it's hard to argue with that. Packed with proven technology combined with the most innovative features on the market, the brief is to produce ultra long-life products that work brilliantly at a great price. It's why Gold Coast Plumbing Company would be proud to install a hot water system at your place today, so get in touch on 1300 390 361 and ask about Thermann hot water systems today!