Are Your Drains Blocked?
We know blocked drains can be a pain – and that you need an expert you can trust to unblock, repair or replace.
Is your kitchen sink blocked?
Is your toilet blocked?
Is your stormwater drain blocked?
Is your shower drain blocked?
A blocked drain isn't just inconvenience for cleaning your teeth or doing the washing. It can also be smelly, cause a big mess and damage your possessions and property.
1000's Of Gold Coast Blocked Drains Fixed, Fast!
When you call Gold Coast Plumbing Company, you're in the right hands. From a simple fix to a complete dig-up and drain re-laying, we'll get the job done! Our tradespeople and equipment are no match for even the most stubborn blocked drains.
Save $$$ With The Blocked Drain Experts.
Free drain camera inspection valued at $349 with every major drain unblocking
6 month warranty on drain unblocking, T&C's apply
Unique Fixed Pricing
Save $50 off today (conditions apply).
Free plumbing system inspection with any paid work
How We Will Save You Money???
If we identify the problem is the responsibility of the local council, we bill them, not you.
We take care of the whole process.
We'll contact the council and work with them to get your drains flowing.
Get Your Blocked Drains Fixed Fast!
Unique Fixed Pricing. No callout fee. Free plumbing system inspection with any paid work. Call the plumbers Gold Coast residents can rely on for fast, friendly service and high quality workmanship.
We are here to help
Blocked drains can damage your home and your possessions.An overflowing blocked toilet can cause a major mess and inconvenience.
Gurgling sinks, showers draining slow and smelly outdoor drains all show a problem.The most common causes of a blocked drain is when fat and grease, paper or food scraps, kitty litter or tree roots cause a blockage.
Luckily, we are the blocked drain experts!
Your home and health will be in good hands as we know exactly how to unblock every drain.
What if the blockage is on the council side of the drain service? Good news! You won't pay a cent.
We bill the council
directly
.
We have the know how and equipment to fix your drain!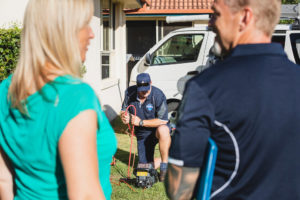 For some blocked drains, a bit of old fashioned plunging can often do the trick, restoring water flow quickly. Other times we need tools designed for tree root removal from drains.
Sometimes customers come to us after another plumber has unblocked their drain. The other plumber may not have used a camera to confirm if the blockage is completely removed. A month late the customer
is disappointed
to find the drain has blocked again.
We always carry the right equipment to unblock Gold Coast drains
quickly
and
thoroughly
.
Every Gold Coast Plumbing Company vehicle has 10 tools, designed to unblock any drain
quickly
and
effectively
.
Here at Gold Coast Plumbing Company, a complex job means we'll bring out the big guns – our powerful water jets & state of the art drain cameras
.
CCTV Drain Cameras
Don't trust any old plumber to do the job right – Not every Gold Coast plumber uses a drain camera, and if they do, they'll charge you for it. Not at Gold Coast Plumbing Company!
We won't just identify the blockage and check it's completely solved afterwards, we won't even charge you a cent extra!
Our sophisticated drain cameras identify your blockage, decide the very best strategy to deal with it, and ensure you won't encounter any more problems in the near future.
The best part is that the drain camera inspection is included in the main drain unblocking price, making ours a truly trustworthy and value-for-money service. Our sophisticated drain cameras identify broken pipes, tree roots and many other complex blockages.
And at Gold Coast Plumbing Company, a drain camera inspection isn't just free when we clear your drain – it will even save you money! If we determine that your drain blockage is actually the local council's responsibility, we'll take care of the entire process and then bill the council, not you.
Powerful water jetters
Water jetting involves a length of hose being inserted into pipework. High-pressure water is then pumped into the hose and sprayed through a specialised nozzle, powerful enough to clear away any blockage from grease and sand to sludge and tree roots.
Our water jetter is one of the most powerful machines of its kind on the Gold Coast. So whether you need a simple bit of plunging to unblock your drain or the powerful pushing of a water jetter, we've got you covered.
Our plumbers have all the right equipment to unblock Gold Coast drains properly and fast!
Need Help? Get In Touch
Send us a message with your plumbing needs and we'll give you a call to answer any questions and arrange a booking.
Happy Customers
Which plumbers do Gold Coast locals recommend the most? We have more 5 star Google reviews than any other local plumbing company.
I was extremely happy with the price and efficiency and will definitely give them a call when next I need a plumber.

Great service from Brent. A true professional tradesman with who looks after his customers. I highly recommend this company to anyone looking for plumbing type work in the Gold Coast area.

Explained all work that needed to be done very nice gentleman professional and would not hesitate in recommending this company. No more leaking taps.

Example Drain Repair Projects
See our blocked drain plumbers in action! Our Gold Coast plumbers are experienced, qualified members of the Master Plumbers Association of Queensland.
Gold Coast Drain Repair: Bad Smells In The Kitchen.
We'd been contacted by a customer who reported foul smells from the kitchen. On inspection, we found broken drain pipes under the deck outside.
How did we fix it? 
We lifted the deck.
Jack hammered the concrete.
Used a Vac Truck to excavate round the pipe.
Repaired the pipe.
Concreted the base to prevent movement.
Filled the hole with sand to protect it.
Compacted the sand.
Refixed the deck.
Cleaned up and moved the beer fridge back into place.
We did all of this in one day, and then backed up the workmanship with our famous lifetime warranty!
Contact Us For All Your Plumbing Needs
Unique Fixed Pricing. No callout fee. Free plumbing system inspection with any paid work. Call the plumbers the Gold Coast can rely on for fast and friendly service.